The 2022 Bolton Free Library Online Plant Sale is here!
Please contact Carla Cumming at 518-644-2276, or email her at cccumming@aol.com if you have any questions or would like to place an order.
Thank you for your support of this fundraiser!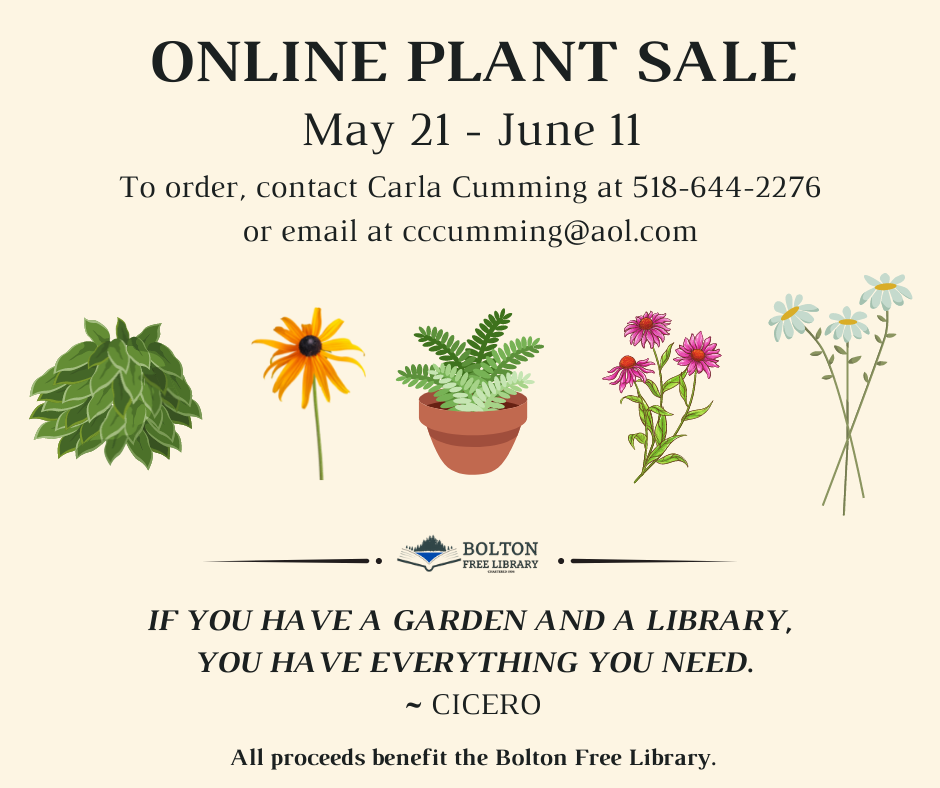 All plants are $10 each. Notes include if it needs sun or shade, and color, where applicable.
*Indicates very limited quantities. Contact Carla if you'd like to be on a waitlist for these flowers.
Ajuga blue sun/shade ground cover
Allium pink Sun
Aster pink Sun Blooms late summer into fall
Aster purple Sun Blooms late summer into fall
Astilbe – Tall white shade
Astilbe – Low pink shade blooms midsummer
Astilbe – Tall pink shade
Autumn Sedum pink Sun Blooms late summer into fall
Balloon Flower blue sun Late Spring – summer
Bee Balm red Sun
Bell Flower blue Sun/Shade
*Black-eyed Susan yellow sun  
Bleeding Heart pink
Chives sun herb
*Cone Flower pink sun blooms all summer – deer resistant
Day Lily – assorted varied sun  
Day Lily – Salmon salmon sun
Day Lily – Frances Joiner      
Foxglove – assorted colors
Hens & Chicks
Hosta varied sun/shade many variations and sizes
Hosta – blue cadet   sun/shade compact
Liatrus – pink or white
Lilac- purple sun from the Library Shrub
Phlox – Tall pink sun  
Phlox – Tall white sun
Rose Companion – rose
Shasta Daisy white sun
Spirea pink sun/shade shrub
Veronica – creeping blue sun ground cover